How to Start a Food Blog in 2022
This post may contain affiliate links, which helps keep this content free. Please read our disclaimer for more info.
If you love cooking and want to share your creations with the world, starting a food blog might be for you.
The internet is an incredible place where anyone can find their niche and start a successful business. With so many blogs out there, it's important that yours stands out from the crowd.
Here are some tips on how to start a food blog!
Choose your Food Blogging Niche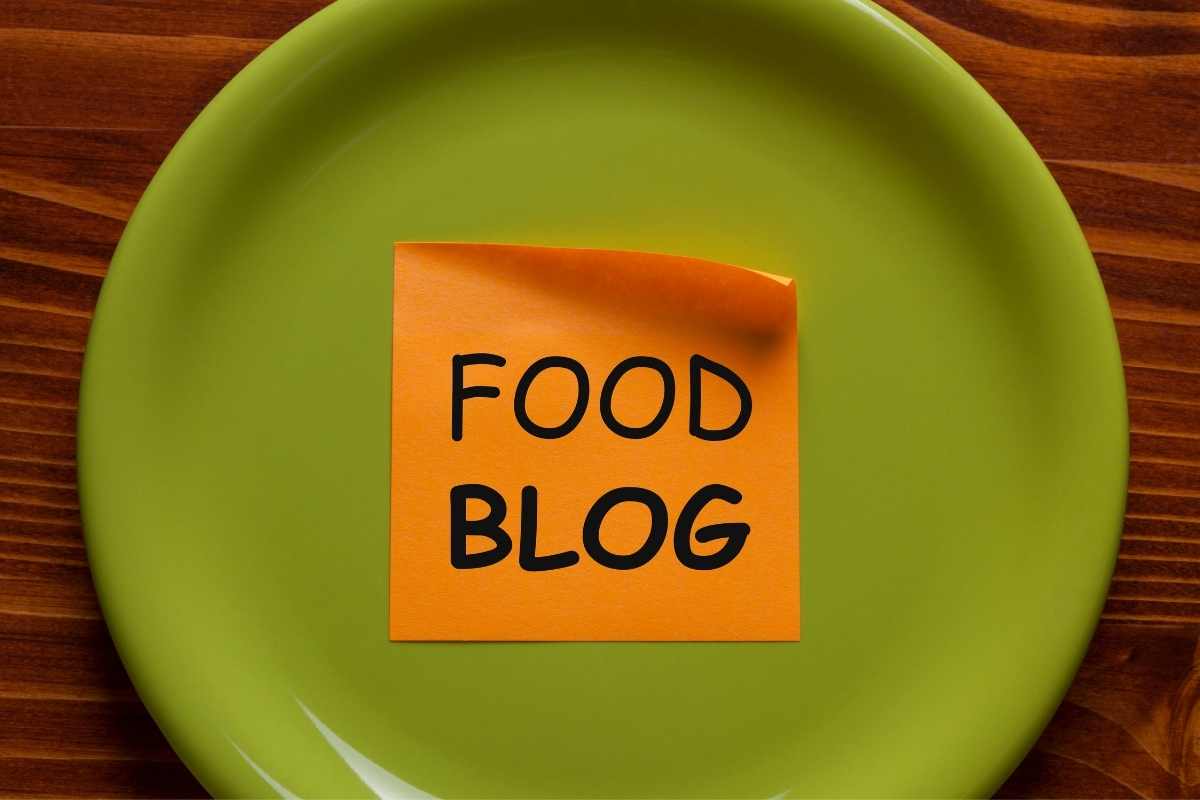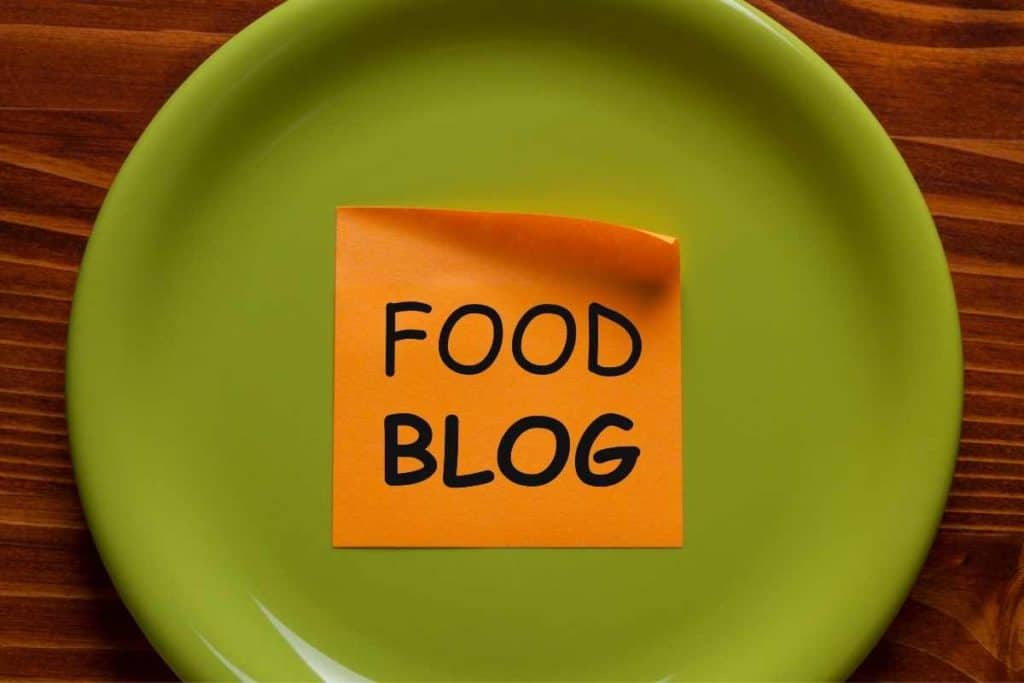 Choosing a food blogging niche is the most important decision you will make in starting your blog. It is what will differentiate your food blog from others and give it an identity.
Choose a niche that interests you and that you are passionate about. This will make it easier to come up with content ideas and maintain a consistent blog schedule.
A few examples of food blog niches are:
A specific type of cooking (ex: grilling, air fryer, desserts, sous vide)
Specialty Diets (keto, vegan, paleo)
Type of person (ex: budget friendly, allergy friendly, cooking for two)
Specific Cuisine (ex: Asian, Mexican, Mediterranean, African)
Once you've decided on a niche for your blog choosing the right name is next!
Pick a Catchy Name for Your Food Blog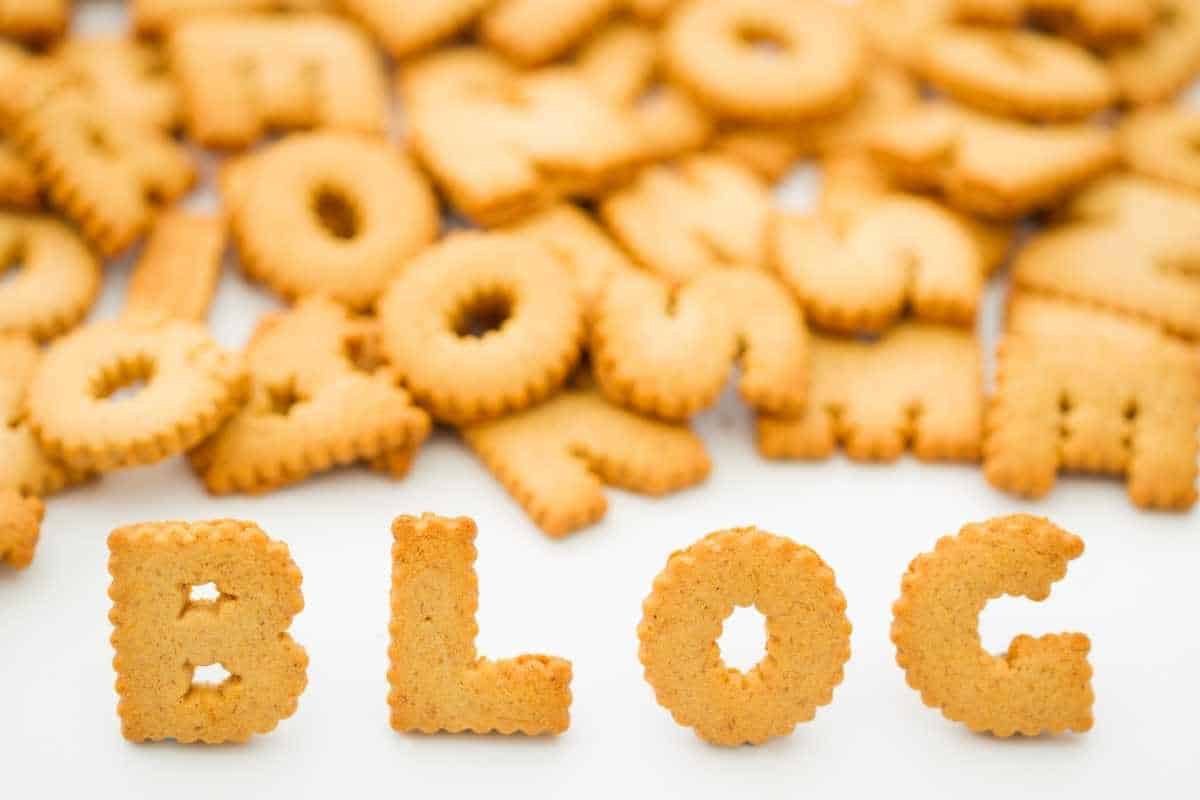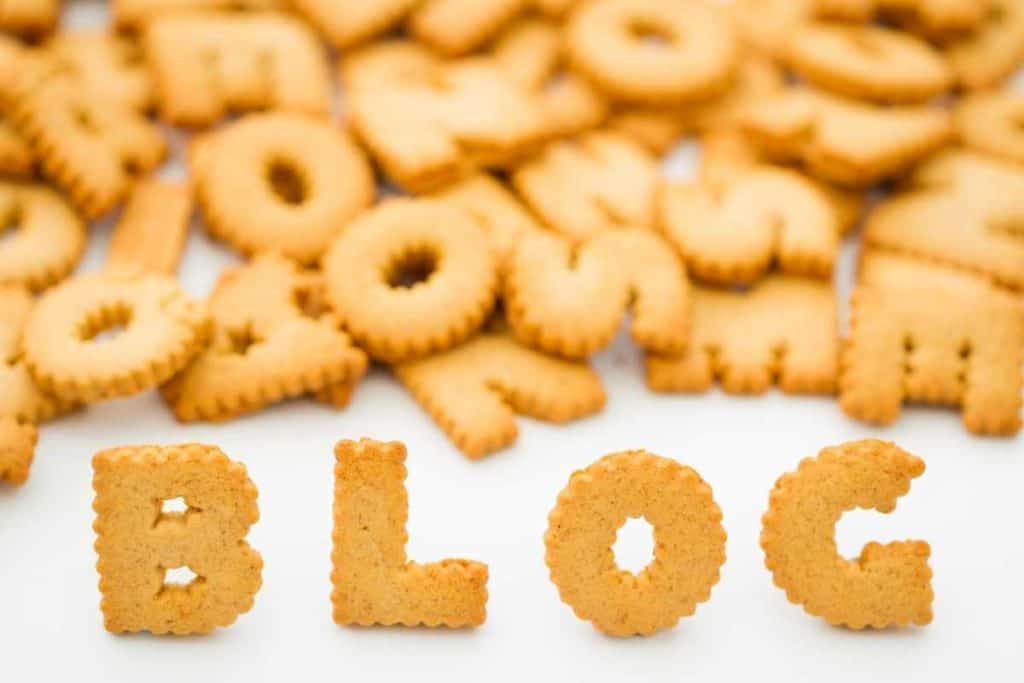 Choosing the right name for your blog is an important decision. You want to have a name that conveys what your blog is about and that stands out from other blogs in the same niche.
Here are some tips on how to choose a name for your food blog:
Try brainstorming different names with friends, family, or even strangers off the internet.
Find out if there are any trademarks or copyrights already taken by an existing blog (you can Google it!).
If you're having trouble coming up with a name, you can use a domain name generator to help.
It's a good idea to have a few different names in mind or variations of your name incase your first choice of a domain is not available.
Once you've chosen a name for your blog, it's time to set up your website!
Set Up Your Food Blog Website
The idea of setting up a website can seem overwhelming, and people often wonder if they should hire someone to help.
But hiring a web designer can be very pricey, and most people don't have it in their budget. At least not in the beginning before the blog is making money.
I promise, it's not as difficult as it seems with the tools that are available today.
1. Find hosting for your site and choose a domain name
Ask 4 different people which host to use, and you'll get 4 different answers.
The host you choose to start with is marginally important as you want your site to run smoothly, but you don't want to fork out a ton of money on hosting until you are actually making money with your blog.
With that said, if you are planning to monetize your food blog, don't start with free hosting. Investing in paid hosting gives you full control and freedom over your own website.
I personally started with Bluehost for my food blog and had a great experience with them.
So! Head over to Bluehost and pick a domain name.
Your domain will be the web address of your blog (ie: healthyambitions.co).
Healthy Ambitions is my keto food blog and you'll notice I have the extension of .co instead of .com.
The .com version of my domain name was not available (unless I wanted to pay a premium price for it), but it also wasn't in use by anyone else.
Since I knew there would be no competition for the domain name "healthyambitions" with a different extension, I went with what was available for free through Bluehost, which was the .co version.
Bonus, you get your first year of domain registration for free when you sign up with Bluehost.
You can also purchase a .co.uk or other country-specific domain if you'd like.
Bluehost Set Up
Click this link to go to Bluehost!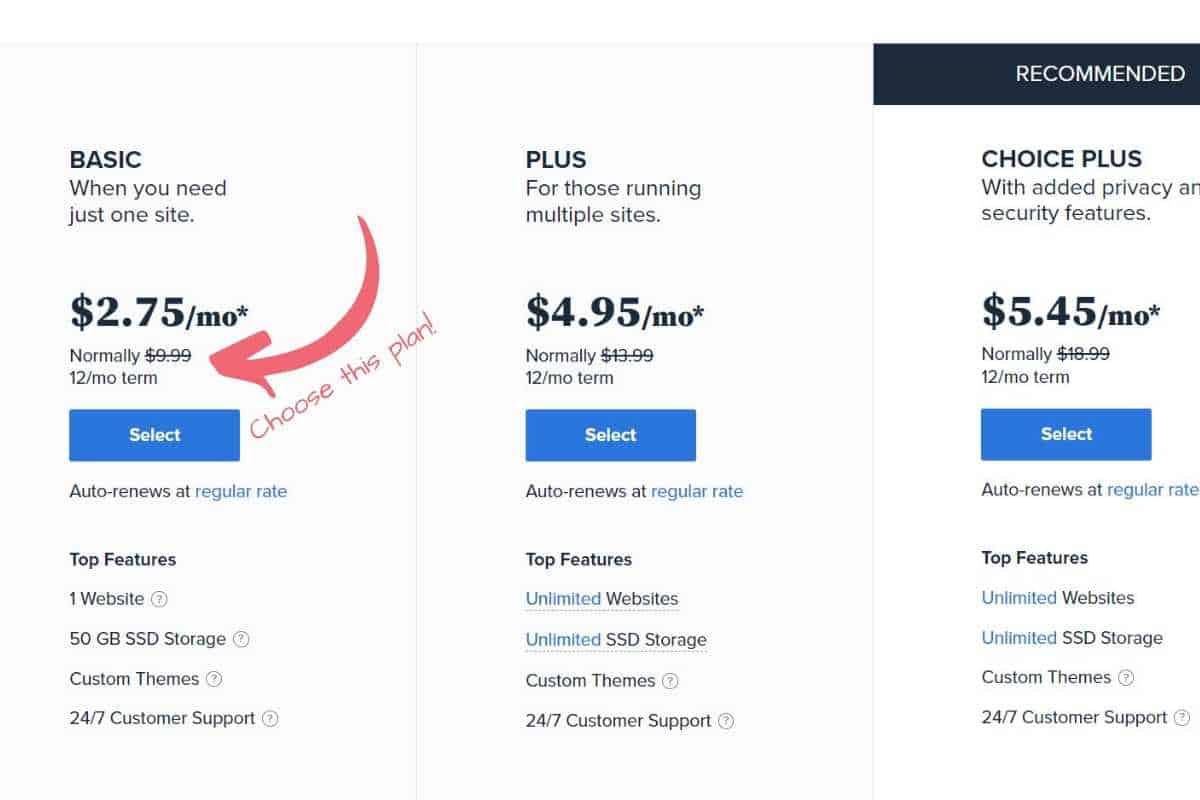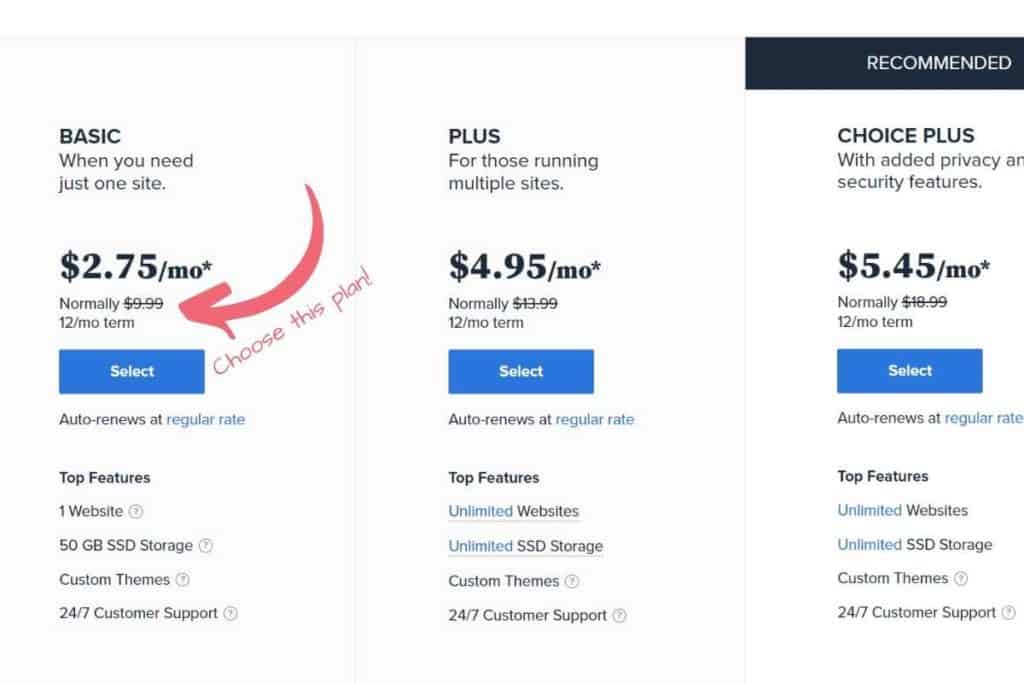 Unless you plan to have more than one website from the beginning, the Basic Plan is all you need.
Once you select your plan, it's time to choose your domain/URL.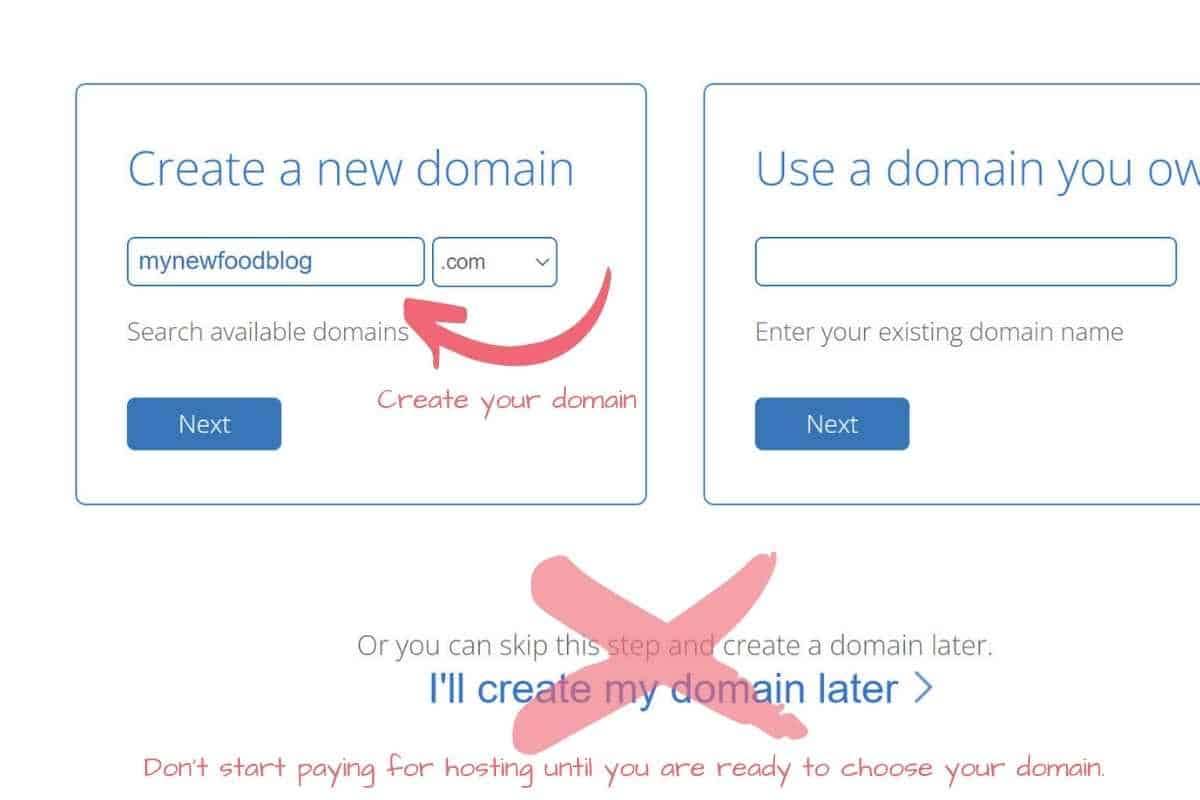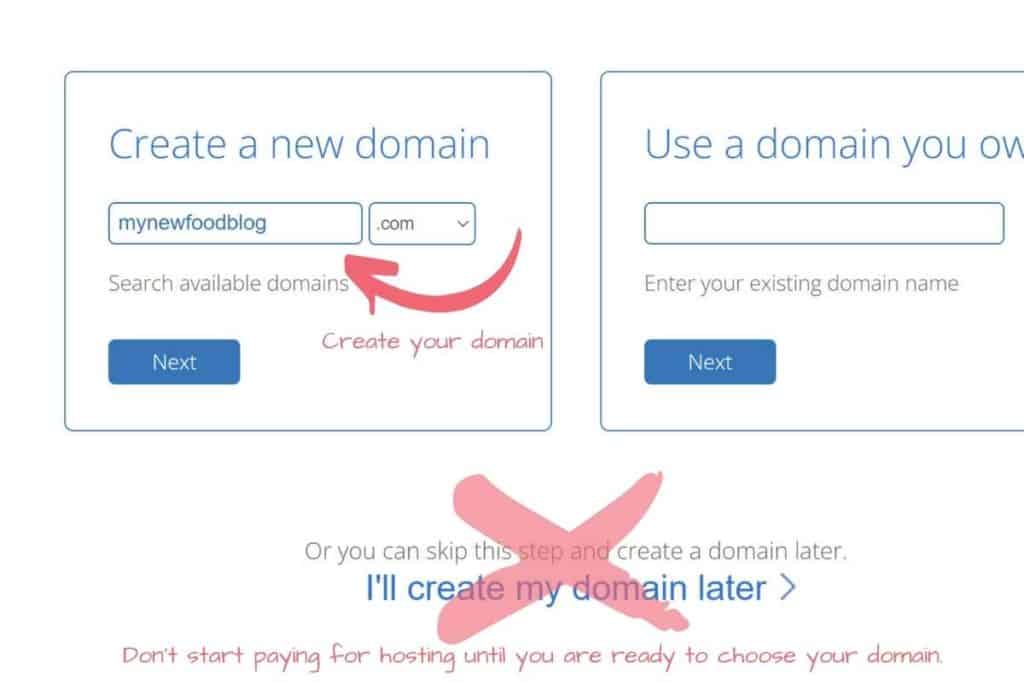 You can technically skip choosing a domain until later, but I don't recommend that for a couple of reasons.
You pay as soon as you sign up, with or without a domain, and the term starts from the date of payment. Why pay for hosting if you are not planning to set up your website right away?
If you skip this part, you won't be able to choose the Domain Privacy Protection addon at this time. That option is only available if you also choose a domain.
Which brings us to the next screen.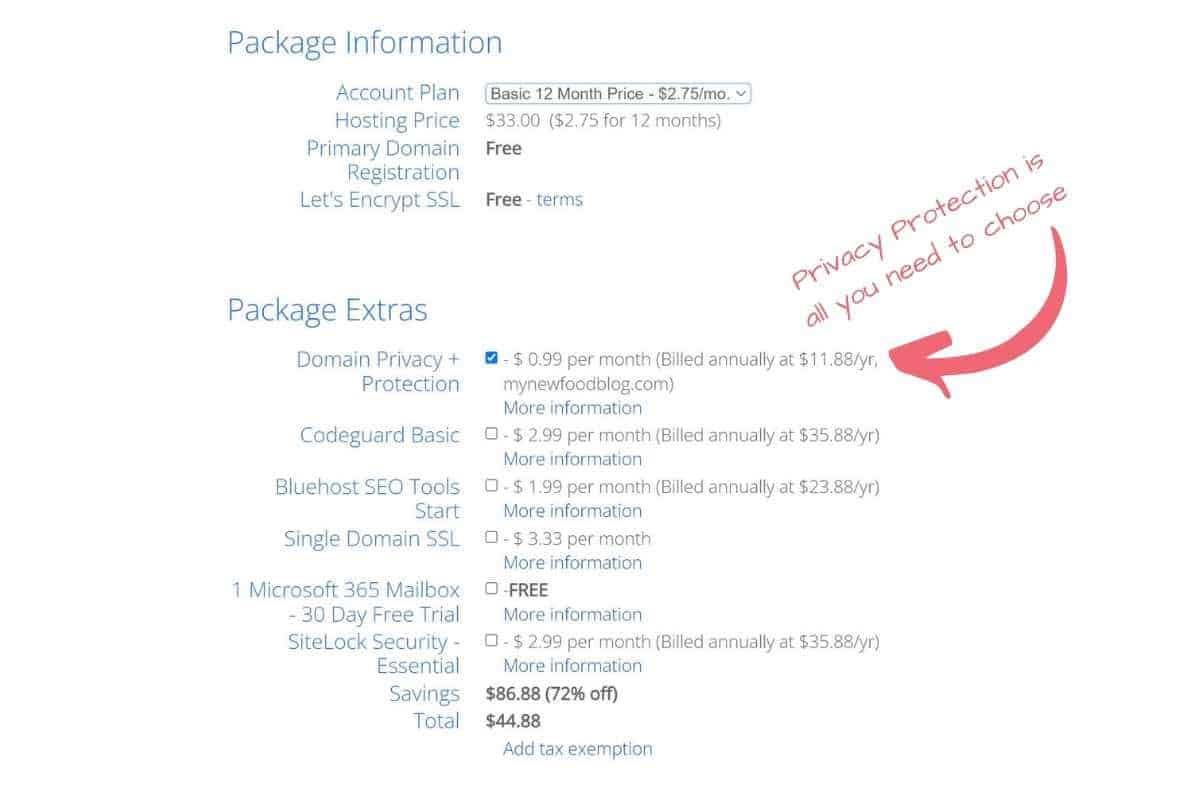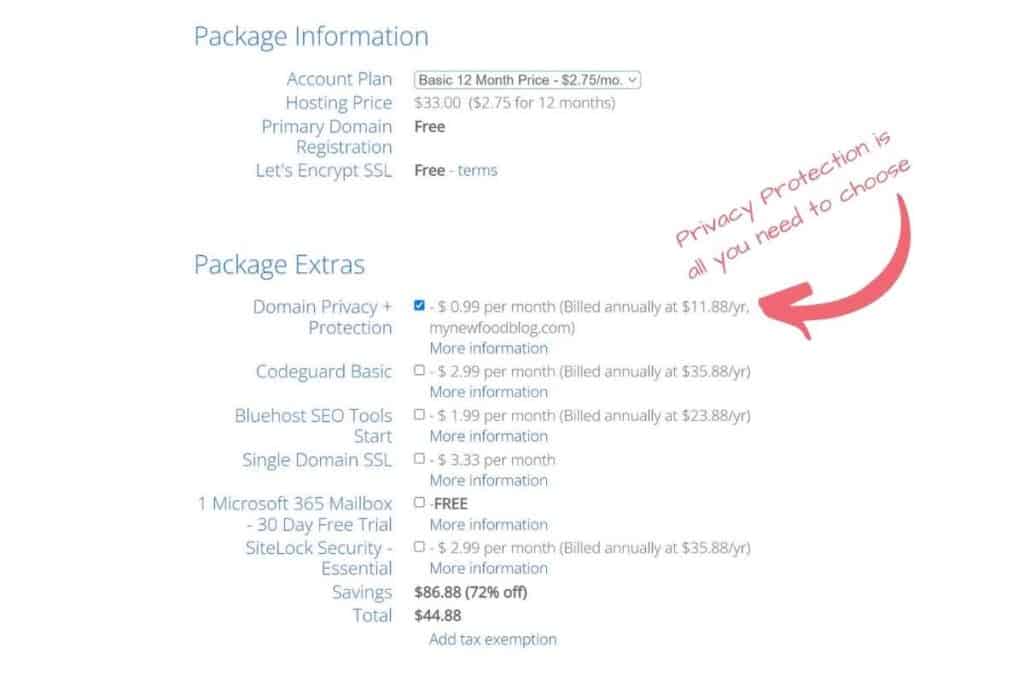 Once you have registered for hosting and chosen your domain name, it's time to start building your blog!
2. Install WordPress on your website
Blue host makes installing WordPress on your website super easy! It's basically a one-click set up.
You can check out the Bluehost instructions HERE.
3. Design Your Website
Once WordPress is installed, it's time to design your website!
This can be a daunting task, but luckily there are lots of templates and themes to choose from that are free or very affordable.
I used the Divi theme for my food blog for the first 2 years and was really happy with it. It's easy to use and has a ton of features.

If you are especially design-challenged, as I am, Divi offers plenty of ready-made templates. All you have to do is change out the colors, images, and text and you're on your way!
There are also plenty of other free WordPress themes and website builders out there, but free themes are often more limited in what can be customized.
4. Install WordPress Plugins
Here are a few free plugins I recommend to start with:
5. Standard Pages You'll Need on Your Website
Most of your website's content will be centered around blog posts, but there are a few pages that you should set up while designing your website.
Home Page: the main page of your website
Contact Page: an easy way for your readers to contact you
Legal Pages: to protect your website (Disclaimer, Privacy, Terms and Conditions)
About Page: a page that tells the audience a little bit about you.
Start Creating Content and Writing Blog Posts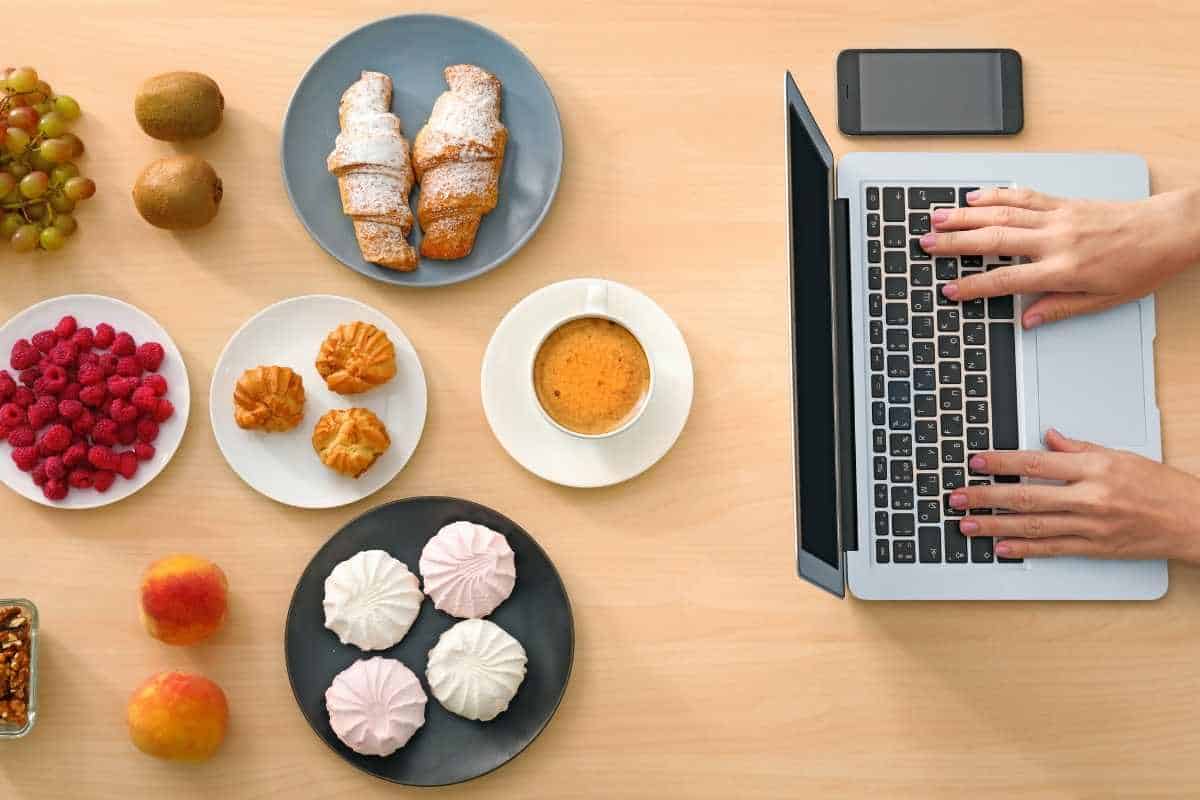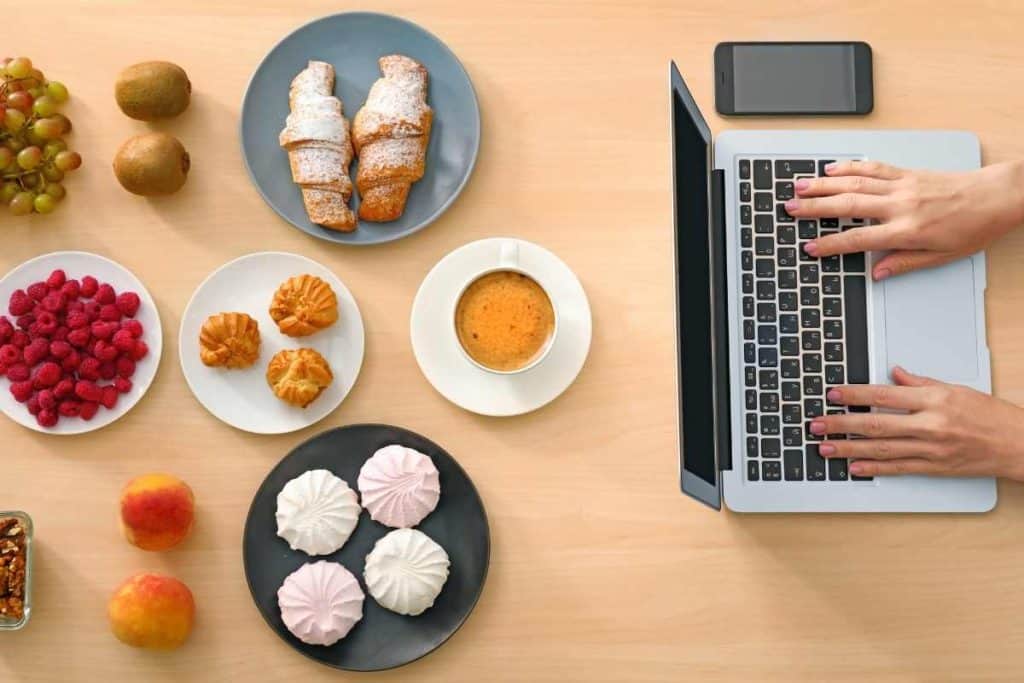 Now that your website is set up, it's time to start creating content!
To start, focus on writing recipes and related content. This will help you build an audience quickly as it's easy for readers to start following your blog.
Once you have a few weeks' worth of content, start thinking about other types of content that would be valuable for your foodie followers (and potential advertisers). For example:
Restaurant Reviews
Food Trends
Product Reviews
How To Posts (ex: How to Make a Perfect Grilled Cheese Sandwich)
Cooking Tips and Tricks
Interviews with Local Chefs or Restaurateurs
The possibilities are endless! Just start brainstorming and get creative.
Once you have some content ideas, start drafting some blog posts. I usually start by writing a headline and then brainstorming ideas for the post based on that headline.
Then, I'll write a few paragraphs outlining the main points of the post and finally, I'll add in any images or other multimedia that I want to include.
When you're finished drafting your blog post, it's time to start editing! This can be a lengthy process, but it's important to make sure your post is well written and typo-free.
Once your post is edited, hit publish and voila, you've just published a new blog post!
A Note on Writing Recipe Articles
Food bloggers hear it all the time. "No one wants to read your life story, just give us the recipe!"
And as someone who looks up recipes to make for my family, I too just want the dang recipe!
So why do food bloggers write so much before getting to the recipe?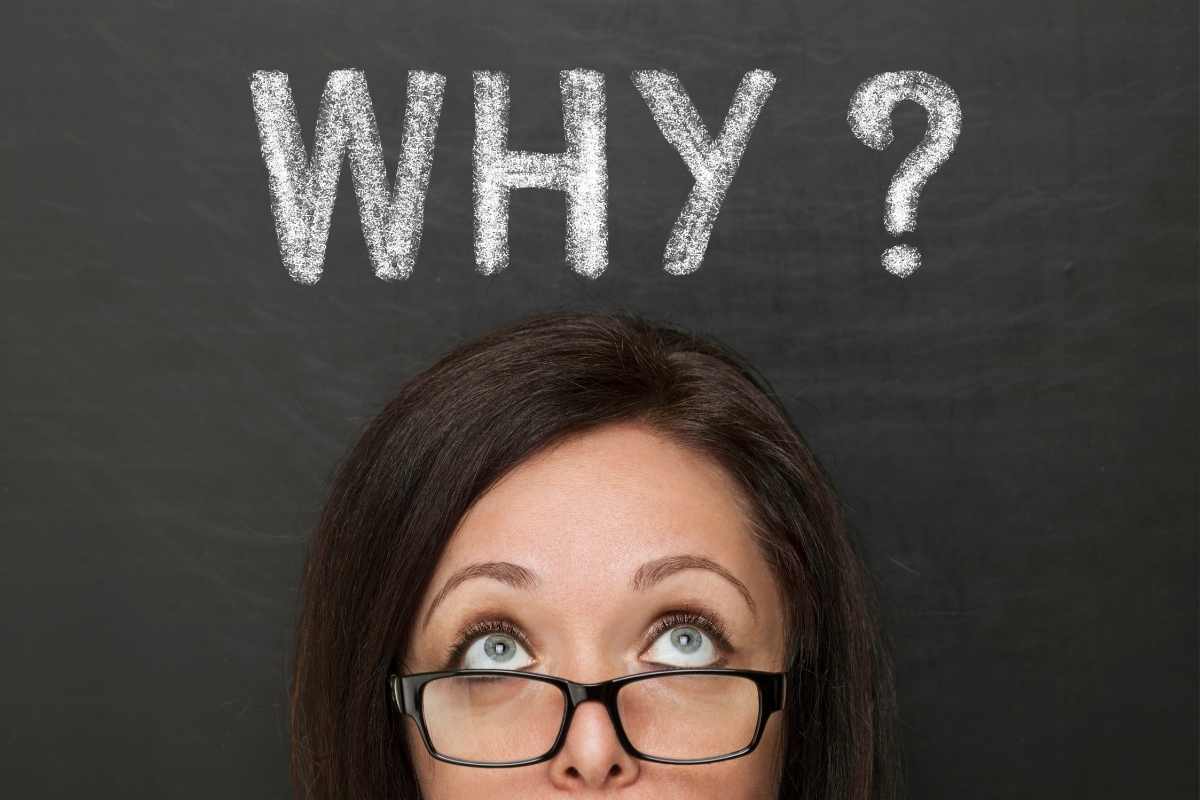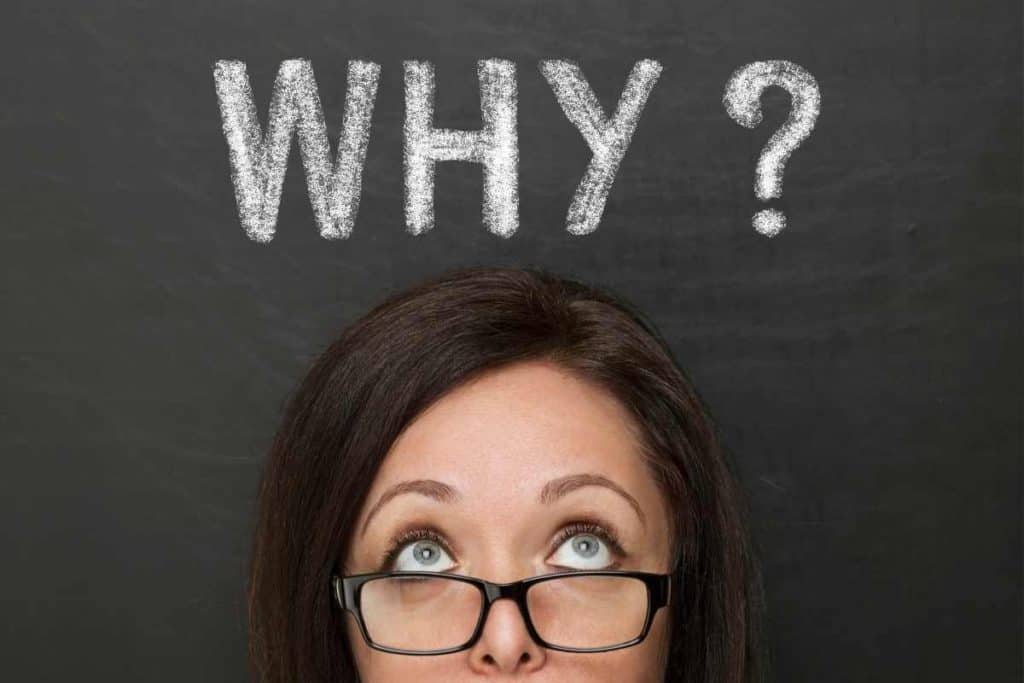 Because the "Google Gods" demand it. Seriously, it's all about ranking on Google.
Google "crawls" your website to determine how much value your article has for people searching for that specific topic and decides where to rank your article amongst every other article writing about the same thing.
And value is is found in more than just the nitty-gritty details of the recipe. Google wants you to provide added value to your reader.
In addition to that, if you choose to allow ads to run on your site as a way to monetize, you need enough content on your page to place the proper amount of ads so you article is profitable.
We all hate ads, but they are honestly the bread and butter of most food bloggers.
Promote your Food Blog
If you build it, they will come….right?
Wrong!
No one will know your food blog exist unless you tell them. Once you have finished designing your website and have published your first article, it's time to share it with the world!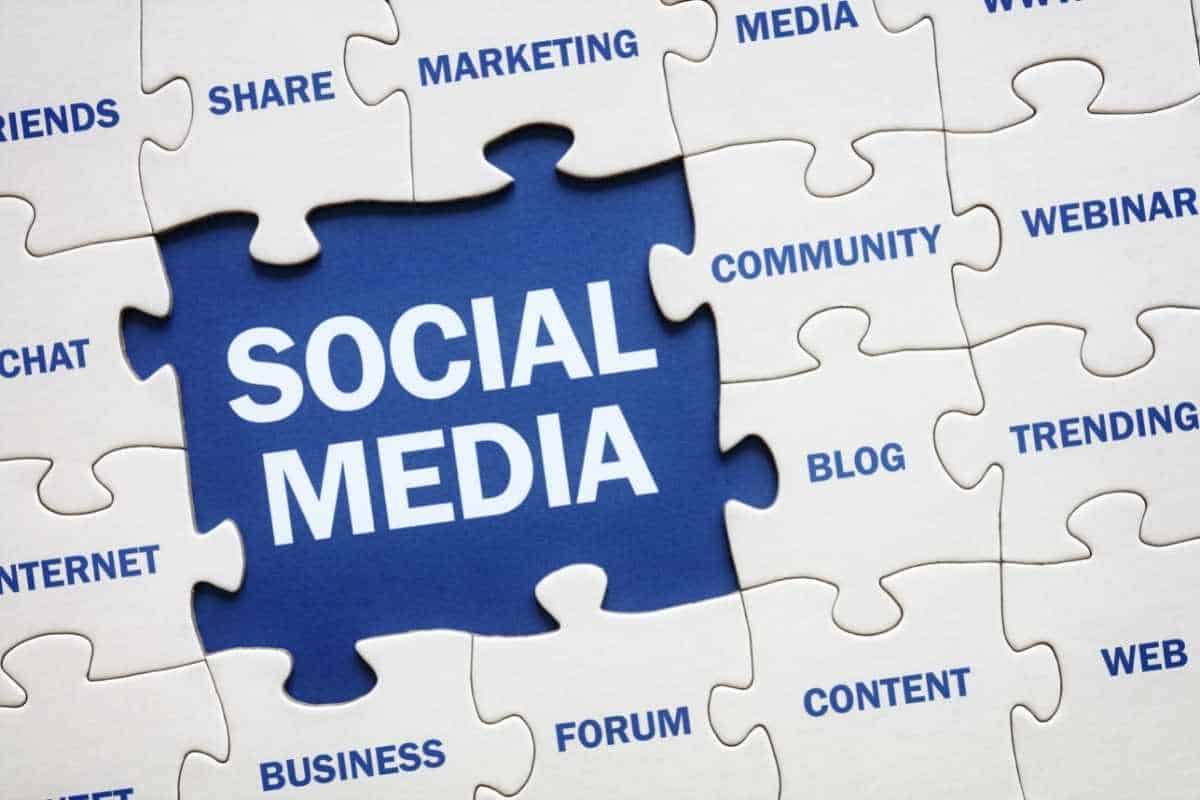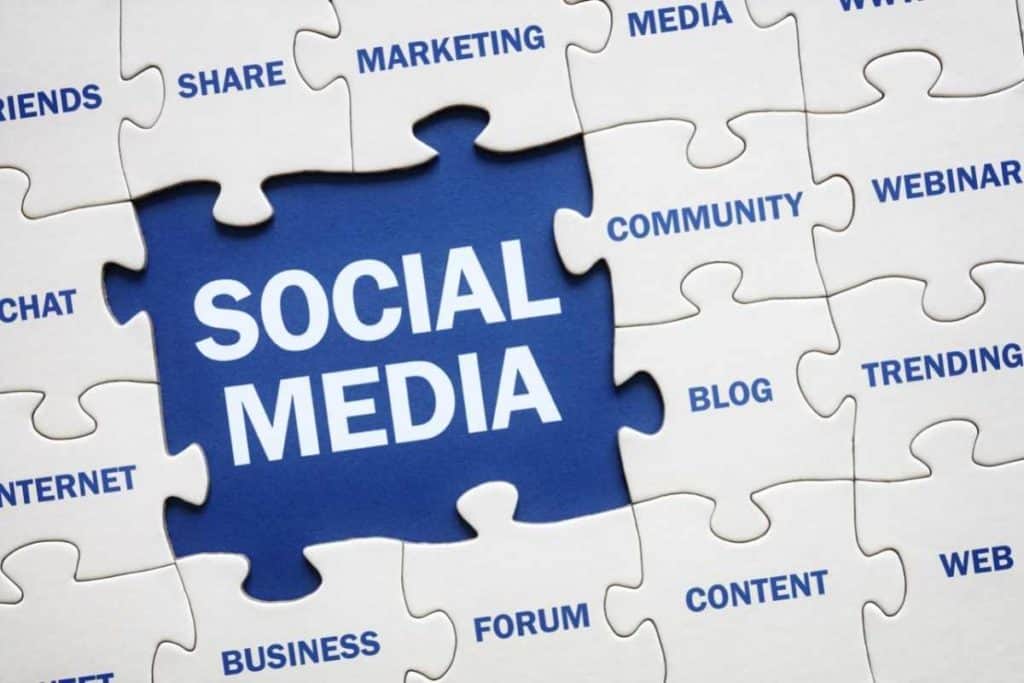 Start by sharing it on your personal Facebook profile and Twitter account.
There are also numerous groups on Facebook devoted to food bloggers that you can join and promote your blog there. (just make sure you have permission from the group owner to share your recipes and articles)
Don't forget about other social media platforms like Instagram, Pinterest and Snapchat!
And the world is turning more and more to video content. Why not start creating food videos and sharing them on YouTube, and Tiktok?
And most importantly, engage with your audience and start building a relationship with them.
Your followers want to know you and trust your brand, so start engaging by asking questions, responding to comments and getting involved in conversations on social media!
Final Thoughts on Starting a Food Blog
The possibilities are endless when it comes to promoting your food blog. Just get creative and start spreading the word!
Once you start publishing articles, don't forget to monitor your website's analytics. This will tell you how many people are visiting your website and what pages they are visiting.
This information is invaluable when it comes to understanding what content your audience likes the most and can help you make decisions about future blog post topics.
So there you have it! A comprehensive guide on how to start a food blog in 2022. Just follow these simple steps and you'll be on your way to
Starting a food blog can be a lot of fun, but it's important to remember that it's also a business.
Make sure you put in the time and effort to create quality content, design a beautiful website, and engage with your audience.
That's the secret to start a food blog and start making money with it (which I'll discuss in another article!)