Google Web Stories Examples in Various Niches
This post may contain affiliate links, which helps keep this content free. Please read our disclaimer for more info.
Google Web Stories is a relatively new addition to the search engine giant's arsenal, and it has already made a big impact. This innovative feature allows businesses to create eye-catching stories that showcase their articles, products, or services.
As you can imagine, this tool can be used in a variety of niches to great effect. In this article, we will take a look at some google web stories examples from various niches.
We will see how online businesses are using this tool to drive traffic and conversions, and learn some tips for creating successful google web stories of our own!
A brief introduction to Google Web Stories
As the internet has become more visual, the way we consume information has changed. People are now more likely to scroll through a feed of images than read a long article.
Google Web Stories is a new format that takes advantage of this trend by allowing publishers to create visual stories that are easy to consume on mobile devices.
Web Stories are similar to traditional articles, but they are made up of small sections of text and images that can be scrolled through quickly.
This makes them ideal for reading on the go, but the user always has the option to dive deeper when you provide a link to related content.
Google Web Stories is still in its early stages, but it has the potential to revolutionize the way we consume online content.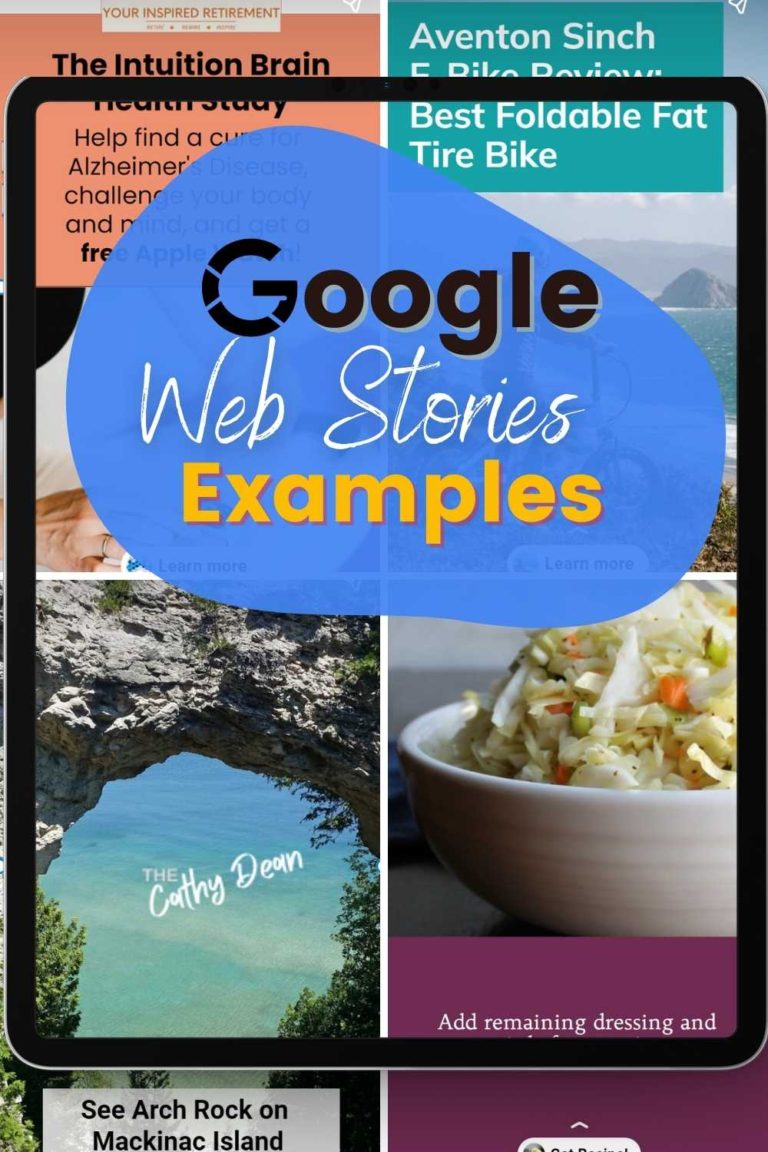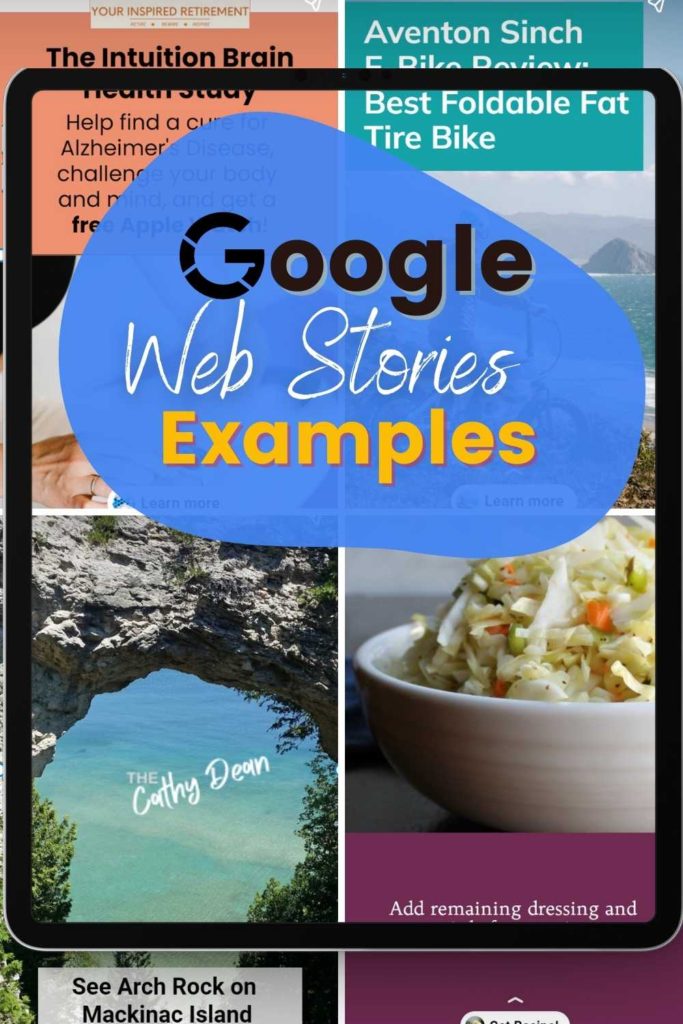 Where Can you Find Google Web Stories?
Web Stories appear on Google Discover on Android and iOS via the latest Google app.
They are displayed on a carousel near the top of the feed, but sometimes you have to scroll down to see it…
When I first started seeing Google Web Stories, the carousel only showed 4 Stories.
Now, I'm seeing up to 8 stories in the carousel, which tells me Google is expanding the feature. That's good news as more and more people begin utilizing Google Web Stories for their online business.
Eye-catching examples of Google Web Stories in various niches
You may be wondering if Google Web Stories will work for your niche.
I contacted several of my fellow blogger and online content creators to see if they would want to share their own Web Stories.
The response was huge and I received a TON of submissions to include in this article. Unfortunately, way too many to include here, but I was thrilled to see everyone so excited and willing to share their Web Stories.
I'll be honest and tell you I received way more examples in the food/recipe niche than any other niche.
So, I'm going to share some of those with you first. After that, we'll take a look at examples from a variety of other niches.
Food & Recipe Niche Google Web Stories Examples
Here are some great examples of food and recipe Google Web Stories…
Scotch and Scones
They have a beautifully simple Web Story about their Quick & Easy No Yeast Cinnamon Rolls.
What I really love about this story is the consistent branding with their logo on each page.
Cooking with Carlee
This Google Web Story shares an easy-to-make Tangy Coleslaw and includes nice process photos with simple-to-follow instructions.
The text is large and easy to read, plus she provides an outbound link to the related recipe article for more details.
Health and Wellness Niche Google Web Stories Examples
This niche is very broad and encompasses so many sub-niches. Here are a couple of examples from my very own students enrolled in my Google Web Stories Masterclass.
Your Inspired Retirement
This narrative combines brain health topics with technology and is designed for an older demographic as well as those who have aging family members.
As someone who has a family history of Alzheimer's disease and dementia, I appreciated this story not only for its educational value, but also because it inspired me to click through the site for more information!
Holistic Healing
Essential oils are all the rage in the holistic community and this Google Web Story educates you on which oils work best to relieve a sore throat.
I adore the simple, yet pertinent photos and simple to comprehend text. AND The text color backgrounds are matched with the pictures on each page! I'm a big believer in color coordination.
Travel and Adventure Niche Google Web Stories Examples
This is a wide open space for photographers and video makers. There are so many incredible and fascinating photos and videos that can be created in this category.
Let's Camp S'More
Ok, the name of this website is amazing on it's own! This story highlights what to do and see when camping around Lake Michigan.
The pictures are beautiful and they look like personal images. Always go for original images over stock images when you can.
There isn't much text listed on each slide, but it's not really needed because the pictures tell the story on their own.
Fun Life Crisis
Google Web Stories are great for product reviews, and this story shows you how it's done.
I enjoy how each page has a natural motion and useful information about the product.
Technology Niche Google Web Stories Examples
My family spends quite a bit of time researching technology and I've always been someone of an early adopter of new tech.
So I was really excited when someone share a story in this niche!
Old Cynic
Have you bought your first Virtual Reality headset yet? Here is a story about the Meta Oculus 2!
Fun fact…we have to VR headsets in our house, the Oculus and the Valve Index. Because we spend so much time researching equipment and games, I see a lot of Google Web Stories in this niche.
DIY/Craft Niche Google Web Stories Examples
There is a lot of potential for Google Web Stories in the DIY and craft world!
Hooked on Patterns
This super cute story shows you how to crochet little heart-shaped coasters.
There are not many slides on this story, but it does a good job of showing the finished product in action.
DIY Danielle
Who's into gardening? This Google Web Story shows you how to make a beautiful hydroponics garden yourself!
This story was beautifully done with amazing photos and lots of great information.
Style & Beauty Niche Google Web Stories Examples
This style of content works well with the fashion and beauty industry since it is inherently visual.
Inspiration for Moms
This could really fall under the DIY niche too, but I love this story for ideas on how to upgrade your kitchen!
I love all the before and after photos showing what you can do to really improve the space. The transformation of the kitchen was incredible!
She Chose Abundance
Calling all fashionistas and Coach fans! This Google Web Story reviews the Coach Pillow Madison luxury bag.
My favorite part of this story is the content creator showing off the product herself along with an image of everything she can fit into her bag.
Summary
The examples of Google Web Stories we've looked at today are just a small taste of the potential this content format has for various niches.
Each story is well-crafted and provides clear instructions or information along with beautiful visuals.
If you're looking for a way to create more engaging content, I highly recommend giving Google Web Stories a try!
More articles on Google Web Stories
Are you ready to get started with Google Web Stories, but still aren't sure where to start?
My Google Web Stories Masterclass will teach you everything you need to know from setup to publishing along with strategies and best practices.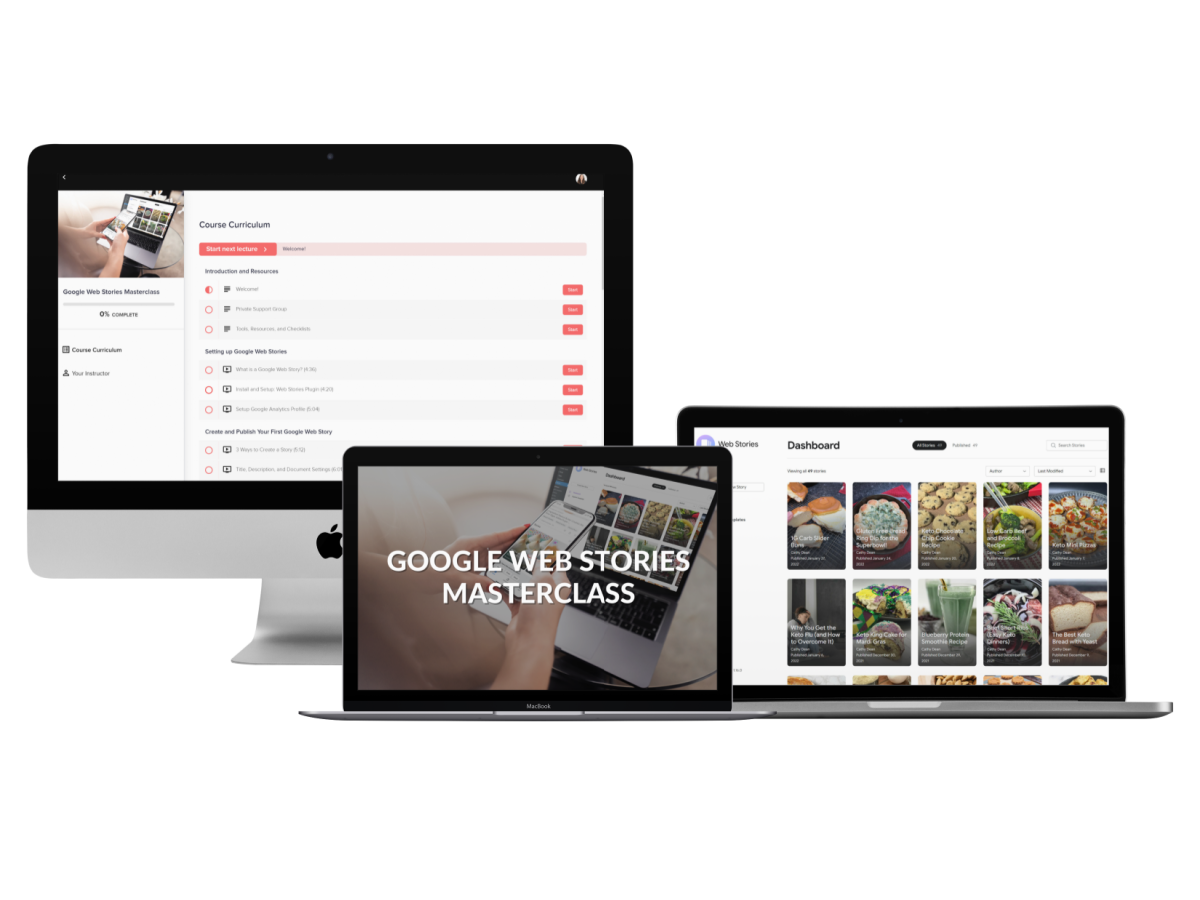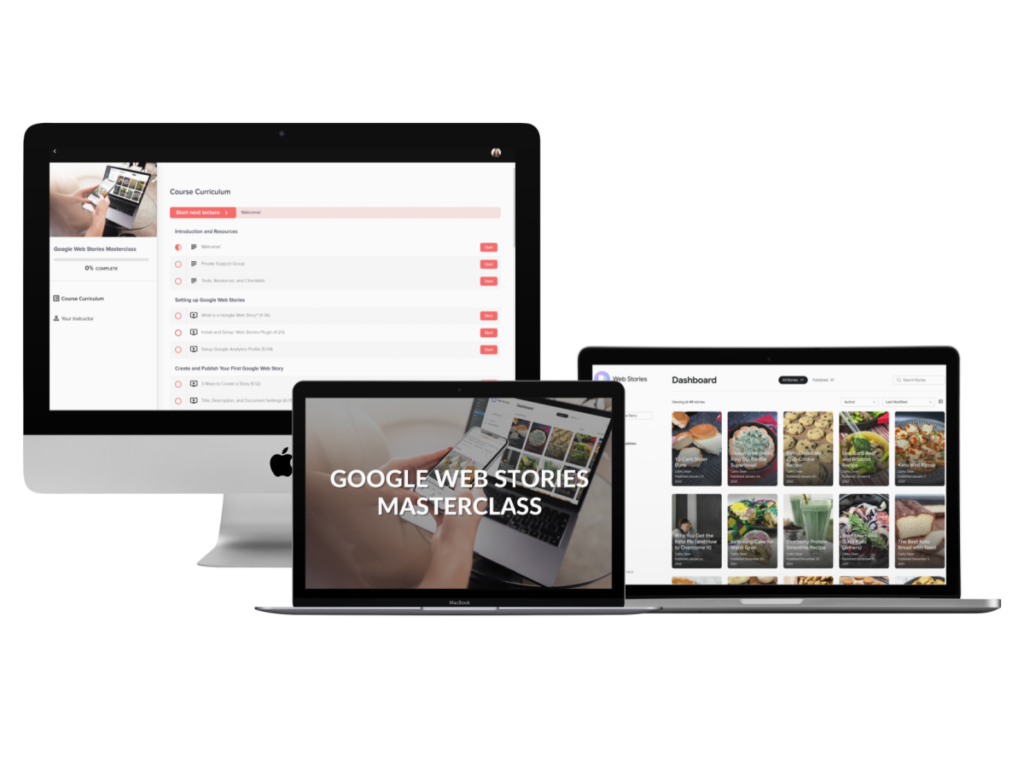 Click here to check out the course!
Do you have any questions about Google Web Stories? Feel free to drop your question in the comment section below!
Related Articles